School Choir perform at the O2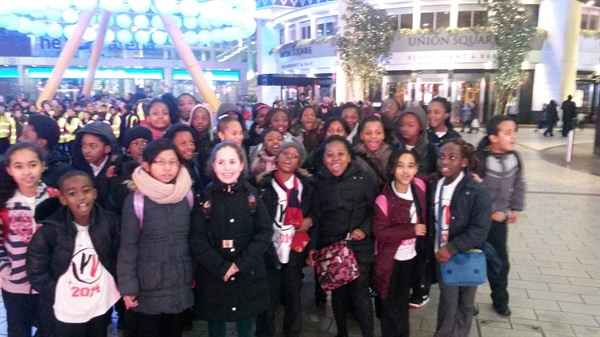 On Wednesday 29th January 2014, St Ignatius School Choir took part in Young Voices, the largest children's choir in the world! The concerts have introduced over one million children to live music in the last 15 years and raise money for the Young Voices Foundation -a charity which helps disadvantaged young people.
Although a long day, it was one we don't think any of us will forget!
Thirty children and St Ignatius staff arrived at the famous O2 Arena on Wednesday afternoon to a room full of eight thousand children from all around the country. We made friends with the school who were sitting next to us who were from Wales! They definitely were in for a very long day!
After being introduced to the band and the conductor, we rehearsed our songs and practised our dance moves. We had a break to eat our packed lunch and rest our voices before the doors opened to all our parents and families, who packed out all the rest of the seats in the arena that were not filled with children.
The atmosphere was electric and the excitement, just before the concert started, was fever-pitch!
The children did a fantastic job singing all the songs they had practised in choir and on their own at home. Hearing eight thousand children having fun singing and seeing them all doing the same dance moves to go with the songs was a wonder to see.
There were also some great acts on stage to sing with the choir – some up-and-coming artists as well as well-known Stacey Solomon! The dance group Urban Strides helped choreograph the dance moves and also performed their own routines for the enthralled audience. Although many of us did not want the concert to end, we left the arena after the Pop Medley Finale and returned to school, weary but very fulfilled! Thank you to all who helped contribute to this wonderful day and awe-inspiring experience – staff, parents and most of all our tuneful school choir. The Young Voices founder David Lewis, spoke about 'sewing a seed in their hearts for a love of music forever' – We hope that happened for all our children.
If you would like to find out more about Young Voices visit www.youngvoices.co.uk and if you want to try and spot us all at the concert, go to You Tube and type Young Voices Pop Medley The O2 Arena London 29th January 2014 – we appear near the end at around 6min 30 seconds !!