Pope appoints Monsignor Mark O'Toole as Bishop of Plymouth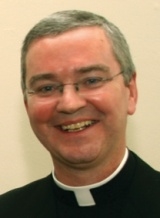 Pope Francis has appointed former 'old boy' of St Ignatius, Monsignor Mark O'Toole as the new bishop elect of Plymouth. He will leave his current post as the Rector of Allen Hall; Westminster Diocese's Seminary in January to take up his new post. We send our prayers and good wishes to Monsignor O'Toole in his new appointment. May God bless him and guide him in all that he does.
MGR MARK O'TOOLE – BIOGRAPHY
22 June 1963 Born in London, the youngest son of Marcus and Maura O'Toole who originally came from the Irish-speaking community of Connemara, Galway, Ireland. Attended St Ignatius Primary School, Stamford Hill and St Thomas More Secondary school in Wood Green.